Stratford College Diamond Jubilee Visit to Áras an Uachtaráin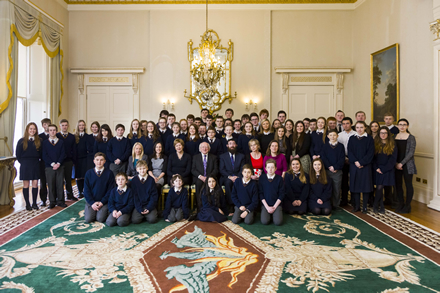 A group of students and staff had a truly memorable morning on Thursday, 12th February when we presented a copy of our book, '60 Years A Growing' to President Michael D. Higgins as the culmination of our Diamond Jubilee celebrations. The President spoke very warmly about the book and Stratford College. Below is an extract from Ms Patricia Gordon's response:
"For our Diamond Jubilee the themes were literacy and our past pupils and what we have got is a beautiful book full of wonderful memories. These stress the sense of community that pervades the school, the attachment that students past and present have for Stratford and the important role that teachers play in young people's lives.
Sisters, brothers, aunts, uncles, nieces, mother and fathers are represented though the ages. Their memories are not of syllabus and points but of the strong relationships they forged with fellow students and the teachers they had. It is a testament to the enduring and transformative power of the teacher in a young person's formative years."