RTE Nationwide Special Irish Jewish Community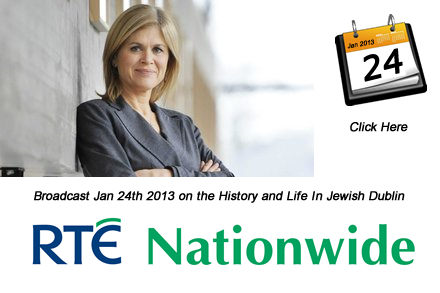 RTE Television recently did a programme as part of their Nationwide series that focused on the Jewish community in Dublin. In the programme reporter Ann Cassin talks to Elaine and Melanie Brown about their memories of Clanbrassil Street in Dublin which formed much of the commercial and social life of the community. There is some good film footage of life on the street and in Zion school on Bloomfield Avenue from sometime in the 1960's.
A substantial part of the program is devoted to the life and death of Ettie Steinberg who is the only Irish citizen who was Jewish to die in the Holocaust. Genealogist Stuart Rosenblatt who has written extensively on the history of Irish Jewish ancestry give details of Ettie's family and life in Ireland before she left for Europe in 1937. When war did come in 1940 and the Nazi's invaded  Belgium and Holland, Ettie and her family went into hiding to escape the advancing German forces, however in a tragic irony she and her family were rounded up the day before their Irish Visas were issued and she was deported to Auschwitz.
The programme ends with some recorded highlights of the Holocaust Memorial event held at the Mansion House last year.