Rabbi Lent speaks to Three Faiths Forum on the subject of Global Conflict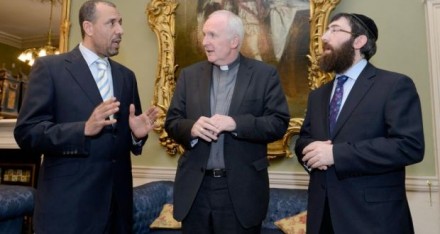 Anti-semitism is now a reality in 71 countries though Jews represent just 0.2 per cent of the world's population, an inter-faith forum has been told in Dublin.
Jews "have perished through history . . . because they were different or a perception that they worshipped the same God differently," said Rabbi Zalman Lent, leader of Ireland's Hebew congregation.
He was speaking at a well-attended Three Faith Forum (Judaism, Christianity, and Islam) discussion on global conflict and religion which was chaired by Prof Linda Hogan vice provost of Trinity College and introduced by Canon Desmond Sinnamon, honorary secretary of the forum.
The attendance included former minister for justice Alan Shatter, the Church of Ireland Archbishop of Dublin Michael Jackson, the Israeli ambassador Boaz Modai and the Palestinian ambassador Ahmad Abdelrazek.
Major wars
Rabbi Lent noted that of an estimated 1,763 major wars in history, just 173 "are classified as being fought over religious difference".
Religion, he said, "is not the cause of war . . . all faiths and all religions promote peace". There would be real peace when people could "share the same space in harmony and always respecting the other," he said.
Dr Ali Selim of the Islamic Cultural Centre in Clonskeagh, Dublin, said, "There is a dire need for people of all faiths to confront the horrible behaviours exerted in their name and to remember that extremists are not peculiar to a certain group or faith."
Islam prohibited killing of both believer and unbeliever, he said, and morality in Islam was not an option, but was compulsory. The challenge for all was "to exist in harmony while having divergencies" .
Satirising of religion
He warned the satirising of religion was "a kind of diminution" of believers as human beings.
The third speaker, Bishop Brendan Leahy of Limerick, recalled Pope Francis's remark on the "globalisation of indifference" and the need for believers to "actively promote a globalisation of fraternity."
What he was proposing was "that religious leaders need to counter the myth that religions lead to global conflicts. We need to highlight how much our religions talk about fraternity.
"We need to stand side-by-side, spiritually and visibly in doing this. We also need to remind each other that the way of fraternity is not always easy.
"Religions teach the significance of perseverance in seeking peace. We need to know how to forgive if we want to promote peace."
Irish Times March 19th 2015