President Higgins Visits the Synagogue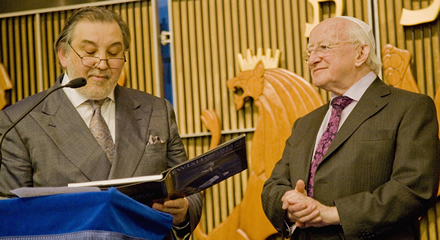 Maurice Cohen reads a dedication to the President which was written to mark his visit to the Jewish Community, on Monday January 30th 2012.
On Monday January 30th the President of Ireland Michael D Higgins and his wife Sabena joined members of the community as well as other dignitaries in the Terenure Synagogue to mark the beginning of his term as Ireland's new President. The evening was very well attended and included the Minister for Justice and Defence Alan Shatter TD, The Attorney General Ms. Marie Whelan S.C. as well as H.E. Mr Boaz Modai the Ambassador of Israel to Ireland. The President spoke of the enormous contribution that the community had made to Ireland in the fields of arts, literature, politics and law. He received a copy of a book about Jewish life in Dublin during the past 50 years and was also presented with a framed certificate of trees that were planted in Israel in honour of the occasion. Maurice Cohen Chairman of the Jewish Representative Council spoke of Ireland being the land of our birth, but that the land of Israel held a special significance for Jewish people all over the world, as their spiritual home. In presenting this certificate signifying the planting of the trees he hoped that as trees grow and become stronger so to would the relationship between Israel and Ireland. The President remained on afterward to meet members of the community and posed for photographs afterwards.