Louis Marcus Honoured For Outstanding Work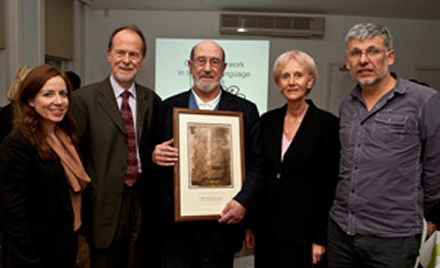 Oscar nominated director Louis Marcus (1798 agus O'Shin, Famine) has been awarded the Screen Director Guild of Ireland and Foras na Gaeilge special prize for outstanding work with the Irish language at the SDGI annual meeting which took place in Fallon and Byrne in Dublin last night.
Louis Marcus was presented with a plaque by fellow directors including German director Oliver Hirschbeigel (Five Minutes Of Heaven, Downfall), Dearbhla Walsh (Little Dorrit, The Tudors), Paddy Breathnach (Red Mist, Shrooms), Lenny Abrhamson (What Richard Did, Garage) and Ciaran Donnelly (Titanic; Blood and Steel, Stardust).
Speaking at the event Louis said, "For myself, I'm greatly honoured to receive this award from my fellow directors and Foras na Gaeilge. But I think it also highlights the tremendous support of the Irish-language sector for serious documentary production from the pioneering days of Gael Linn to the TG4 of today."
Deirdre Davitt, Programme Manager for the Arts, Foras na Gaeilge said "Foras na Gaeilge would like to publicly acknowledge the enormous contribution Louis Marcus has made to the Irish language film and television sector over the past 50 years and to thank the SDGI for the opportunity to do so."
His cinema work has had international distribution through United Artists and Columbia Pictures; his television work has appeared on RTÉ, TG4, Ulster Television and Channel Four, with distribution by Thames Television International.
Recent works include Cosc ar Ghnéas/A Ban on Sex, No Rootless Colonists/Na Gaeil-Phrostatúnaigh, Christ Church Through the Ages and a triptych treatment of the annual Fleadh Cheoil for the Brú Ború Centre in Cashel.
In 1995 he received the Irish Film Institute's Annual Award, and at the 50th Cork Film Festival in 2005 he received a Lifetime Achievement Award and a retrospective of his work. He was elected to the Hollywood Academy of Motion Picture Arts and Sciences, and is an honorary member of the Royal Hibernian Academy. Over the years he has served on several state arts boards including the Abbey Theatre Shareholders, the Foreign Relations Committee and the Arts Council, and is a former Chairperson of Bord Scannán na hÉireann/the Irish Film Board.