Lord Mayor Lights Chanukah Candles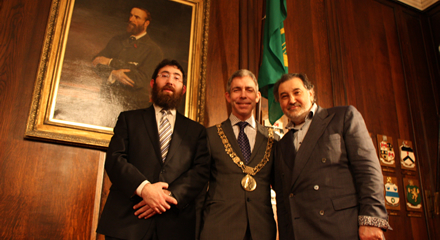 Pictured here is Rabbi Zalman Lent, Alderman Andrew Montague and Mr Maurice Cohen, Chairman of the Jewish Representative Council of Ireland.
The Lord Mayor of Dublin officiated at the annual lighting of the Menorah outside his official residence, the Mansion House on Dawson Street in the center Dublin. The ceremony which took place on December 21st last, has become an annual event for the Rabbi and the Irish Jewish community. The lighting of the two candles took place outside on the steps of the Mansion House attended by 120 people. The lighting ceremony took place following short speeches by Rabbi Lent and the Lord Mayor, after which the assembly joined with Cantor Shulman in sing the ceremonial songs.