Jewish Rep Council Meeting with Minister for Justice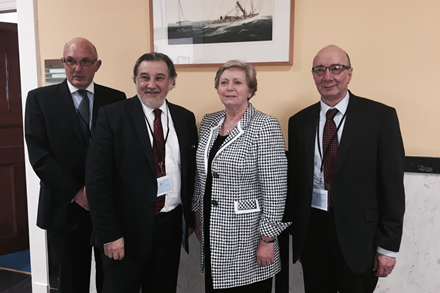 Dr. Andrew Woolfe, Mr Maurice Cohen, Minister Francis Fitzgerald, Mr Leonard Abrahamson.
A delegation from the Jewish Representative Council consisting of President Leonard Abrahamson, Chairman Maurice Cohen and Dr. Andrew Woolfe, met with Justice Minister Francis Fitzgerald TD yesterday and while no details of the discussion were disclosed, Council Chairman, Maurice Cohen said that the Jewish Community met regularly with representatives of all Government Departments and in many cases Ministers were often present.
After the meeting Mr. Cohen paid tribute to Minister Fitzgerald saying that "she was continuing the necessary and challenging work which began under her predecessor Alan Shatter TD and he wished her well in her endeavors."
The Department of Justice and Equality has responsibility in many areas of policy particularly in relation to equality within and between communities. It also supports the annual Holocaust Memorial Event that commemorates the six million European Jews who were murdered by the Nazi's during the Second World War.